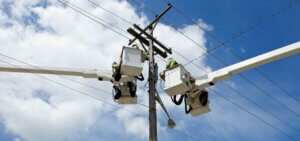 Agostino Utilities:
Electric Utility Provider
Agostino Utilities is an Electric Utility Provider based in Schwenksville, PA. Serving the North East area, Agostino Utilities specializes in Rapid Mobilization & Power Restoration Services. Here on this actively growing resource, you will be able to find real reviews and verified testimonials from satisfied customers, as well as Storm Restoration Highlights.
Agostino Utilities is an Electric Utility Company that cares about its customers and their communities.  The team has proudly supplied a variety of electrical services throughout Pennsylvania and the North East since 2020.  Founded by a father and son duo, Agostino Utilities was established with a clear core value of family in mind.  Years later, that core value continues to resonate.  Every member of the Agostino Utilities community, from crew members to the customers they serve, is family!  A family-oriented company who believes in putting family first, the team aims to treat each and every individual customer with the same compassion and care as their own family back at home.  The crew understands just how critical power restoration can be following a storm or other natural disaster.  Springing into action in an immediate response, Agostino Utilities is available for rapid mobilization and emergency high voltage restoration services during and following the event of a storm.